Das grüne Kücken – the green poult
2010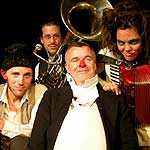 Gander Elvis has got a heart's desire: he would like a child. So he asks the hens for one. Those only laugh at him. An exasperating situation, if there wasn't Fritz the dog, who finds an egg that admittedly looks a bit old. Elvis, a strange chick hatches out, who turns his world topsy-turvy.
Play Graham Smart, A. Neiman, M. Kaspar Läuchli, L. Schaetti
Direction Andrea Schulthess
Stage version Sabine Wang
Music Pumcliks
Production management Graham Smart


Watch video on Youtube
Kaspar & Pina – a music-comic duo
2010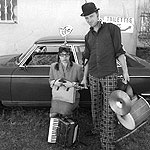 Hidden behind her accordion, her partitions and her signs, Pina accompanies her hero: Kaspar. The Best, The one and only, a man with the umbelivable talent for dissociated music. While he enchants the public with melodies coming out of his clarinet and the wild rhythms of his percussions, Pina gives her best to follow, keeping up the groove by non stop Bubblegum chewing. But this discreet presence will not last long: soon she will forget herself in a bubblegum solo, in a seductive dance ore in a sale action… winning herself the title of… "The Best"!
Angela Neiman Clown Pina, accordion, voice
Martin Kaspar Orkestar clarinet, percussion


Watch video on Youtube
Pippo & the Pirates – a musical trash cabaret
2008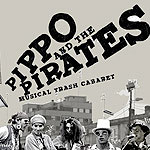 Five tramps hope to make money off their fucked up show. Here's the wonderful musical street trash cabaret for the whole family! A combination of folk and new-pop songs with fantastic variety acts. We proudly present you: the cardboard box acrobat! the close pin fakir! the garbage bag tamer! the hip shaking onemanband! and much much more… !
A pimp, two bums, a kid and an angel make the terrible quintet ready to interact with whatever happens.
Angela Neiman accordion, voice
Franziska Hoby trumpet
Stéphane Fratini ukulele, voice
Martin Kaspar Läuchli clarinet, percussion
Léon Schaetti voice, accordion, helicon
Christophe Carrère Direction
Co-Production of Pumcliks & Compagnie Buffpapier

Watch video on Youtube
Roma Termini
2007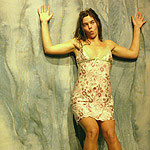 A physical-theatre about the daily struggles of a homeless woman living in the train station of Roma Termini. Reality changes with the changing of points of veu.
Concept & InterpretationAngela Neiman
Direction Stéphane Fratini
Choreography Amina Amici
Music Martin Kaspar Läuchli
Watch video on Youtube
Storie dall' alto piano
2006
A theatrical story inspired by the novel "Rulli di tamburo su Rancas" of Manuel Scorza. Founded on true facts, the peace tells about the conflict between an American concern" Cerro de Pasco Corporation" and the inhabitants of a mountain village.
Direction Joe Sebastian Fenner
Idea and Text Angela Neiman
Music Martin Kaspar Läuchli

Interpretation Angela Neiman and Martin Kaspar Läuchli
Production Pumcliks
Assunta & Co. – un concerto teatrale
2005
A big-mouthed fish sales woman left everything she had to pursue her glorious music career. A young Mister Perfect, thin as a broomstick accompanied by an awkward Hobby Gardener. These are the characters that form a most improbable trio, Assunta, Joseph and Blümli. They will surprise you with a concert you will never be able to forget.
Angela Neiman voice, accordion, helicon
Martin Kaspar Läuchli voice, clarinet, percussion
Léon Schaetti voice, accordion, helicon
Stéphane Fratini Direction
Production Pumcliks
Watch video on Youtube
Pierrot
2003/04
A trip trough the 400 years of existence of this Commedia dell'Arte figure, show Pirrot in different contexts. The starting point fore this creation was furnished by10 paintings, painted between 1587 and 1987.
Performed by Angela Neiman, Franziska Hoby, Stéphane Fratini, Sandro Santoro
Music Martin Kaspar Läuchli, Léon Schaetti
Production Compagnie Buffpapier
Listen to some music compositions extracted from the CD "C'est du Théâtre"


Tournes mon amour


Pierrot lunaire


Choréographie finale
Marcovaldo e Domitilla –
un voyage vers le sud
2003
A burlesque musical theatre without words, inspired by he nobel of Italo Calvino "Marcovaldo ovvero le stagioni in citta".
Script Filippo Zanghi
Direction Sandro Santoro
Performed by Angela Neiman, Sandro Santoro
Music Martin Kaspar Läuchli, Léon Schaetti
Production Naphtaline
Listen to some music compositions extracted from the CD "C'est du Théâtre"


Ouverture


Il sogno